Welcome to Sharrons Event Catering Company
---
---
---
Planning on having a celebration party, wedding, barbeque or need corporate catering? Whatever the event you are planning, you need to look no further than Sharrons Event Catering Company.
We are experienced outside caterers committed to providing high quality food and services using only the best quality, fresh, and where possible locally sourced ingredients prepared in our dedicated kitchen.
Over time we have become expert in event planning and our team is passionate about making your event special. We are experienced party planners and will delight you with our detailed event management skills both for adults and childrens parties alike.
Our services include food catering and event planning for Adult Parties, Children's Parties, Seasonal Parties, Christenings, Weddings, Funerals, BBQs, and all types of Corporate Events from small dedicated staff functions to large product launches, in fact Sharrons Event Catering Company will provide a bespoke event tailored to your needs.
Sharrons Event Catering Company covers all of London and the south east of England including Essex, Hertfordshire, Kent and surrounding areas.
Visit our testimonials page to see what our clients are saying about us.
No matter the size of your event or how simple or complex your requirement please do call or email Sharrons Event Catering Company's friendly events team to discuss your needs and receive a no obligation estimate for our services.
Call us 01992 814 632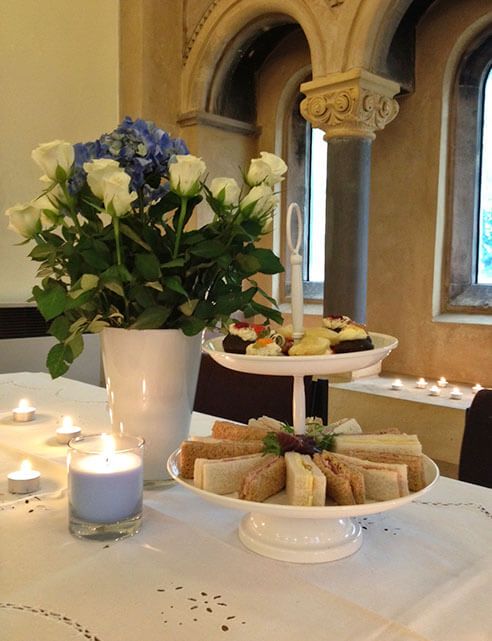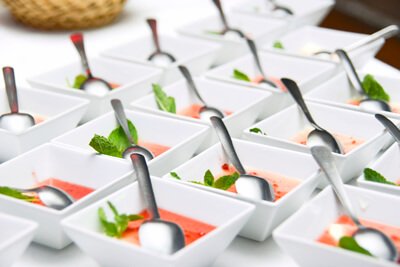 Hot Bowl food
Why not try something different for your party this Autumn - our Bowl food are mini meals served in small bowls complete with a fork for your guests to be able to eat whilst sitting or standing. Served by our waiting staff they are the perfect way to provide your guests with an informal but substantial delicious meal.
Hi Sharron, Just wanted to say the food was fantastic, a great selection and all really tasty. We had too much but that's not a bad thing! Lots of people commented on how nice it was and how well presented. Thank you! Will definitely recommend and be back for future events. All the best, Julia, 3rd December 2023

Hi Sharron, I've just followed up with Michael, and he said everything was perfect at the weekend, both food and service. He wanted me to thank you for making his son's first birthday party a success, and we look forward to using Sharrons Event Catering Company again in the future. If anyone needs a great local caterer, we'll be sure to recommend your services.

Thank you, Georgia, 28th November 2023

Evening Sharron, Apologise for the delay. The food was absolutely lovely. Everyone commented on how good the lunch was. I can absolutely say for sure I will be booking with you again. Thank you so much. Best wishes, Cara, 25th October 2023

Good afternoon. I would like to take this opportunity to thank you for preparing such a beautiful buffet for last Sunday. It truly was amazing, and everyone commented how nice and fresh all the food was. Those who had the gluten free really appreciated. Once again thank you. I will certainly recommend you to others. Many Thanks, Kind Regards, Sharon, 9th November 2023

Hi Sharron, This is just a quick message to say thank you so much for the lovely food and drink you and your staff provided yesterday. It all looked and tasted great, and I was so glad everyone enjoyed it. Thank you again, Sarah, 19th October 2023

Hi Sharron, I keep meaning to write and say how lovely the food was. We had a lovely party and a lot of nice compliments about the food. Pat, 10th October 2023

Dear Sharron, Thank you so much for today.  We had a wonderful party.  Ciara and Katie were very professional and friendly and are a credit to your company.  The food was enjoyed by everyone - all in all a lovely day. With kind regards. Sarah, 7th October 2023

Hi Sharron, I just wanted to drop you a message to thank you so much for catering for the funeral so well on Tuesday. All the platters looked lovely and the food went down really well with everyone. We so appreciated you being willing to tackle all our allergies and I very much enjoyed my special platters and being able to join in with everyone. You made everything so much easier at a particularly challenging time. Kind regards, Susan, 28th July 2023

Dear Sharron, May I thank you for the marvellous buffet you supplied for my 80th birthday celebration last Friday. Elizabeth has told me that you kindly 'fitted me in' to your busy schedule and both she and I are most grateful. The evening was a great success, certainly due in part to the excellent food. With my thanks and best wishes, Clive, 3rd July 2023

Thank you for doing the catering for us for my sister's funeral. Everyone commented on how lovely it was, and you were right, there was more than enough! The servers were very professional too. Thanks again. Liz, 11th July 2023

Hi Sharon, Thank you for such a fabulous service this year - it was thoroughly enjoyed. Thank you, Charlotte, 26th June 2023

Hi, Thank you for it last week. The food was amazing and went down brilliantly.Thanks, Jack, 26th June 2023

Hello Sharron, I just wanted a drop a note to say a huge thank you for your support with our first Great Wild Walk event this year! We've had nothing but lovely comments about the food (particularly the cherry bakewell!) and I hope the staff on the day had a lovely time too. Thank you so much for accommodating our sustainability needs, we really appreciate your support in this area. Many thanks, Louise, 26th June 2023

Hi Sharron, Thank you again for providing what was a well-received Clubhouse food offering over the Pro League, Many Thanks, Mark, 26th June 2023

Hi Sharon, Re My 80th birthday 17th June. Your service and food was 1st class. Thank you so so much. I would definitely recommend you and hope we have a nice occasion to call you again. Kindest regards. Pat, 19th June 2023

HI Sharon, We were over the moon with the buffet supplied. There was lots of it and it was all lovely. Will definitely recommend and use you again (hopefully not for a funeral). Kerrie, 31st May 2023

Hi sharron  I just wanted to drop you a note to thank you for the excellent catering for mum's funeral yesterday. The food was superb and of such a great variety. Regine and Libby did a wonderful job of looking after everyone and the place was left spotless.  I would certainly recommend you to anyone looking for a caterer. Sue, 28th April 2023

Hi Sharron, I meant to email earlier to say thank you and pass on the many compliments we received about the food and how well you and your team supported us before and during the event. Thanks, Gwen 16th March 2023

Hello Sharron. Just wanted to say a huge thank you for all the lovely food you supplied for my Mums wake yesterday. It was delicious and went down well with everyone. Mum would have been proud to see such a spread on her dining table. Once again a very big thank you. Debbie 16th March 2023

A huge thank you to Sharron and her team for the amazing buffet they provided for my dad's funeral.  The food was lovely and there was plenty of it.  Sharron and her team served the food and drinks, constantly refilling the plates and clearing up beautifully at the end. Sharron was really helpful in advising what we would need, and even what we wouldn't need.  I highly recommend this service.  Thank you Sharron. Jo 28th March 2023

Hi Sharron, I just wanted to say a big thank you to you and your wonderful staff for providing us with a delicious meal and fantastic service today. We all had a great time and you made everything go very smoothly. My Dad thoroughly enjoyed the event and we will recommend you to anyone who needs a caterer in the future. Thanks again, Best wishes, Jacqui, 16th April 2023

Hi Sharron, Our volunteers loved the food you provided. I got lots of great feedback about it. Thank you to you and your team for all of your hard work. Kind regards, Jessica, 6th March 2023

Dear Sharron, Just wanted to say a huge thank you for all the support and excellent catering you have given us this year. I didn't see it myself, but it was mentioned how lovely you decorated the tables for our event yesterday. Those extra touches you do, do not go unnoticed and you make my job so much easier and less stressful as I know I can completely rely on you. It is always such a pleasure working with you and your staff. THANK YOU!!!! Kind Regards, Juliane, 16th December 2022

Dear Sharron, Thank you so much for the lovely buffet you did for our fathers funeral. It really was superb and very well organised. Regards, Caroline, 15th December 2022

Hi Sharron, Thank you for the lovely afternoon tea and your great efficiency in looking after us all. We have had lots of compliments about the delicious food. With kindest regards. Alyson, 25th January 2023

Hi Sharron, Just wanted to say thank you so much for your wonderful catering and service at my mum's wake yesterday.  I am also truly grateful for you stepping in at fairly short notice. I will definitely use your services again in the future should I need you, and recommend you where possible. I wish you and your family a very Happy Christmas and a prosperous and healthy 2023. With kind regards, Lynne, 10th January 2023

Dear Sharron, A HUGE thank you from me for your support to successfully deliver at Redbridge last night, the food was fantastic! Thank you so much for accommodating all my various (and last minute!) requests. It really is a comfort to work with experienced and knowledgeable professionals, such as yourself and your team. Many thanks once again, and hopefully we'll be able to work together on future events. All the best, Joanna, 3rd November 2022

Dear Sharron, I would like to say a huge thank you for your input at our wedding reception at the Lee Valley White Water Centre on 22nd September 2022. You did an excellent job with the food and all our guests were commenting on how good it was.   It was beautifully presented and all served on time. What impressed my husband and myself the most, was the quality of your staff.  Yourself and the girls behind the bar were beautifully dressed and incredibly nice and helpful.  The service given really added to the enjoyment of our day. Once again, many thanks for providing us with such excellent service.  It was greatly appreciated. Kind regards, Julie, 4th October 2022

Hello Sharron, Just thought I'd drop you an e-mail to say the officials absolutely loved your food this weekend. The pastries went down a storm!! Regards Paul, 5th December 2022

Sharron, Just wanted to thank you for the fabulous buffet and service at my mothers wake yesterday at Greenacres. Please relay my thanks to the staff that worked that afternoon, they did a great job and the food was lovely. Kind regards, Amanda, 1st December 2022

HI Sharron, Just though I would let you know that the food was a great success – everyone loved the shepherd's pie/veg pie. They were very grateful for something warm and easy to digest! Regards, Pat, 13th October 2022

Thanks for yesterday Sharron, Your staff were friendly organised and on it! Best Wishes, Kevin, 3rd October 2022

Hi Sharron, We wanted to drop you a message about the catering you provided for our wedding last week. The food was amazing and everyone commented on how good it was. We'd also like to thank you for how easily you dealt with the fact that the venue hadn't provided you with the correct number of vegetarian meals required. You and your staff put our minds at ease straight away and simply said 'don't worry, it'll be fine'. It was better than fine; all dietary requirements were met with exceptional food and service. Your staff are a credit to you and we couldn't recommend you highly enough for anyone looking for catering at their next event. Many thanks again, Stevie & Michael, 3rd October 2022

Good morning Sharron, Just a quick note to thank you for the food yesterday.  It looked great, there was plenty there and helped our day to go very well. Many thanks again. Kind regards Cindy, 6th September 2022

Hi sharron, I wanted say a massive thank you to you and your team for all your help with Logan's party and making it perfect. Everyone loved the food and the staff were so helpful. Thanks Pav, 22nd August 2022

Dear Sharron, Thank you and your team so much for the wonderful catering that you provided after my mother's funeral in Epping on Friday. So many of those attending commented on how good the food was - and the number of people making repeat visits to the buffet table spoke for itself! The excellent staff were all polite, friendly and efficient and helped to make a sad day as enjoyable as it could be. I won't hesitate to recommend your company to others. Kind regards, Sarah 8th August 2022

Dear Sharron, A delicious tasting buffet.. plenty of food & variety of items.. loved it.. Thankyou, Jo x, 31st July 2022

Dear Sharron, May we thank you again for the outstanding service and understanding for all the unexpected issues we encountered. Without your patience, professionalism and utter kindness, we would not have had such a successful outcome. Everyone made such positive comments of your food and presentation (strongest from a mother of a Caterer like yourself up in Derbyshire). All were so impressed as were we. You have been amazing. Best wishes, Margaret & Brian, 31st July 2022

Hi sharron, I just want to say a very big thank you  for the buffet provided on 23rd july in harlow..at the end of the night there was very little left and my guests kept asking me who did my catering as they said the quality was fantastic  and a few even said it was the best buffet food they have ever tasted ..so again thank you so much for your assistance... i would definatly use sharrons catering again ..Regards, Darren 3rd August 2022

Hi Sharron, Now that I've recovered from their party just want to say thank you - beautiful event and food was great. Staff were lovely. Sonia, 18th June 2022

Dear Sharron, I just wanted to send a little note to say thank you for the wonderful buffet you put out for us yesterday. Several people came to me to say what a lovely table of food it was. Thank you so much. Kind regards,  Colette, 8th June 2022

Hi Sharron, Just a big thank you for your help at the weekend. England Hockey and their guests were really happy with the food you supplied. Many Thanks, Mark, 6th June 2022

Hi Sharron, This is just a quick note to thank you for the barbecue on Saturday, it was absolutely perfect, and great quality as well! We had an amazing time and everyone enjoyed the food, the party, everything:-) Hopefully next year we can get to do the same, as it was the best choice!:-) Thank you, Eliza, 29th June 2022

Good morning Sharron, I'm sure you must be 'exhausted' today after all your hard work yesterday, but the boys and I just wanted to say a big thankyou to you and your splendid team. Your food and organisation were great and we had many comments to to that effect. Thankyou so much for helping to make our special day so memorable! Very best wishes, Vicky 15th May 2022

Hi Sharron, You and your team were amazing and brilliant and the spread was absolutely wonderful. Thank you so much for helping to make a fantastic evening and unforgettable birthday party for me. Please pass this on to everyone. Very Best Wishes, Ken and Fiona, 19th April 2022

Dear Sharron, Just a note to thank you so much for the lovely spread of cakes and sweet treats for my Brother Paul's Wake. All your efforts were really appreciated.  We  did have a few cakes left over, so these went to The Salvation Army hostel where they were gratefully received. I will certainly call on you again if I need any help. Kind regards. Joy, 31st March 2022

Dear All, I would like to personally thank you for the wonderful afternoon tea you prepared and served to us at my Civic Awards Ceremony. It was very well received and contributed to the success of the event. Thank you so much. Chairman, 25th March 2022

Hello Sharron, I wanted to say thank you on behalf of our Careers Consortium for the fantastic buffet you provided for our Careers Fest event yesterday.  It really was amazing and helped to seal the deal on a very successful event! Many thanks again. Kind regards, Jill, 25th March 2022

Hi Sharron, I hope you had a lovely weekend. We just wanted to say a massive thank you to you and your staff for the wonderful food on Saturday for my son's birthday! The food was absolutely perfect and everyone commented on how fantastic it was. Thank you again and it was really lovely. Kind regards, Claire, 10th January 2022

Hi Sharron, Thank you for the amazing food for the Youth Conference on 19 November. Merry Christmas and Happy New Year. See you in 2022, Kind regards, Di, 8th December 2021.

Dear Sharron, Thank you to you and your staff for providing the most delicious lunch yesterday.  We were all impressed with how smoothly the whole event went and how delicious the food was.  Thank you for making this a special day for our guests. Many thanks again and please pass on our thanks to your staff who were helpful and polite. Regards, Lindsey, 14th December 2021

Hi Sharron, Thankyou so much for all your excellent catering on Saturday afternoon and evening. It was amazing and everyone was so complimentary of you and your friendly team. We shall want to use you again in the future. Many thanks again. Duncan, 22nd November 2021

Hi Sharron, Just a brief note to say thank you so much for last Saturday. Everything was perfect. I had so many nice comments about the quality of the food and how friendly you and your staff were. All the best, Crispin, 10th November 2021

Hi Sharron, Thank you for all you and your team did for us yesterday. The food was fantastic, we had many people come up to us and saying how much they enjoyed the meal. We greatly appreciate that you did a lot more for us than was required and in no small part helped make it a wonderful evening for Helena and I. Regards, Andy, 17th October 2021

Dear Sharron, Your buffet was really excellent - thank you. We are very grateful for everything you did for us  .. Your friendly helpful suggestions as to what we should choose for a funeral with an unknown number of guests. Your efficient delivery and presentation of the food and most importantly, the high quality of all the food and the generous portions, so everyone enjoyed it and no one went hungry. I won't be surprised if some of the locals choose you for their next event. I will certainly be happy to recommend you anytime! best wishes, Cathy, 2nd October 2021

Hi Sharron, I've just realised that it is now a month since our party at Theydon Bois Village Hall and I have been meaning to say THANK YOU for the wonderful catering you provided. It was all very professionally done to a very high standard and many compliments were made by the guests. Thank you also for making it all so stress free for me. Kind regards, Lance, 22nd September 2021

Good morning Sharron, Just a few lines to thank you and your team for your exceptionally good service and fayre on Saturday. It was everything I could wish for and I have already had a number of favourable comments. Best regards, Alan, 6th September 2021

Hi Sharron, Just to thank you again for helping us with the event yesterday. You and your team were absolutely brilliant – from pre-event to delivery on the day you were so calm and efficient – it was brilliant working with you! The food was just perfect and your service on the day was impeccable. Thank you once again for helping to make this special day so wonderful – we couldn't have done it without you. With Very Best Wishes, Carly, Francesca and all the team at the museum, 6th September 2021

Sharron, thank you SO much for the amazing spread this afternoon. It was so tasty and everyone had a lovely time. The GF Vegan was particularly grateful, and loved her cheesecake, so thank you for helping make her feel at home too. I loved the yellow napkins too! ;-) The girls you had serving were brilliant - so hardworking and efficient; nothing was too much trouble and they were so kind at the end when we were checking where recycling went. They just offered to take it all down. We're really impressed all round. All the best, Sarah & Nick, 22nd August 2021

Hi Sharon, I did not have the chance to thank you for the food yesterday, it was really good and everybody was very complimentary. You and your team really did us proud. I hope it went well from your perspective and they all behaved themselves ?. Thank you so much for making it a special day. The bar guys were also very impressed. Cheers, David, 13th August 2021

Hi Sharron, Thanks to you and your team, it helped to make the evening a really good event. Lots of positive comments about the food and the service. Regards, Sue, 27th July 2021

Dear Sharron, Just wanted to drop you a line to say the food was amazing and so beautifully presented. The girls was just excellent it made our day so much easier to have you on board. I'm truly grateful. Please tell the girls what stars they were. Kind Regards, Elaine x 15th July 2021

Hi Sharron, Just wanted to say thank you for the great buffet you made for my daughter's Hen Do last weekend.  We had loads of comments from the guests on how good the food was especially the variety available. Regards, Sue, 12th July 2021

Sharron, Just wanted to drop you a line to say a huge thank-you for yesterday. The food and service was excellent and exactly what I wanted. Thanks again, Ben, 3rd July 2021

Sharron: I am just writing to say thankyou for the catering at my captain's day. I have had great feedback. I thought your staff were delightful,  very helpful and so hardworking.  And I think I will steal your recipe for coronation chicken! Thanks so much,too, for the last minute veggie options. I wish you were with us permanently. Thankyou, Jill, Lady Captain Golf club 2nd July 2021

Sharron, Thank you so so much for saturday!! Everyone commented on the food! You were amazing! Will definitely use you again and recommend you!! Soo happy! X x x Sharon, 28th June 2021

Hi Sharron,  Thanks for yesterday, Perfect service, Girls absolutely brilliant, Food awesome, We will be back to you again for certain, Kind Regards, Kevin, Managing Director, 5th June 2021

Hi Sharron, Thanks so much to you and your team for yesterday, we had such a great time and the food was delicious. Many thanks, Jamie 23rd May 2021

Hi Sharron, We just wanted to say a big thank you to you for the catering for the baby showers last weekend. It all went down very well and was presented beautifully! Many thanks, Lucy, 11th October 2020

Hi Sharron, Your delivery was fantastic, everyone really enjoyed it. I'm sure we'll be using your service again in the future. Kind regards Nisha, 14th October 2020

Hi Sharron, Thanks you so much for the lunches whilst we delivered our training you received excellent feedback from all our trainees!! They were delicious? Kind regards, Jodie 16th October 2020

Dear Sharron, Firstly, I would like to say we were over the moon with your staff last night at my house.  They were amazing, so professional, tidy and clean.  I would not hesitate to recommend your company to anybody. I really do wish you and your staff all the best, and fingers crossed we can get back to some normality very soon. Best wishes. Jo, 13th September 2020

Hi Sharron, Thank you for the food, It was absolutely incredible. Thank you so, so much. You made our day even more special than we could have imagined. Tamsin 20th July 2020

Hi Everyone, what a shoot! I want to say a big thank you for everyone's amazing efforts. Such a special crew to work with and I'm looking forward to the next one ❤️.  Best wishes x Joseph 21st June 2020

Hi Alison just wanted to send a quick email to say thank you so very much for  doing the catering for our funeral yesterday. The food was fantastic and we will not hesitate to recommend and use your services again. Many thanks Cheryl xxx, 20th February 2020

Sharon, thanks again for a lovely and very generous lunch, Regards Chris, 21st February 2020

Dear Alison, I would like to thank you and your very professional staff for the excellent service we received on Friday. My daughter's 18th party ran very smoothly and everything was very tasty. We even ate the leftovers over the weekend. Thanks again, Regards, Gurmeet, 16th February 2020

Dear Alison, Happy New Year, Just a note to thank you all very much for another enjoyable Christmas lunch. The food was good quality, nice and hot and the waiting staff were pleasant and helpful as always. Kind regards, Yvonne, 8th January 2020

Hi Alison, First and foremost I just want to say a massive THANK YOU to you, Sharron and the team for supporting with the event yesterday at such late notice. My client was extremely impressed with the food and service, we couldn't have asked for any more. I wish you all a very Merry Christmas and a prosperous New Year. Kind regards, Mark, 22nd December 2019

Dear Alison, Thea and Janet, A huge thank you for all your wonderful help and support today at the Christmas Tea. Happy Christmas! Dennis and Annabel, 13th December 2019

Hello Alison,  Just wanted to say a massive thank you to you and your team! The service you provided is impeccable and over and beyond my expectations. We will book through you again should we need another catering service. Many thanks, Vesna, 16th December 2019

Hi Alison, I just want to say and massive thank you to you and Sharron for the delicious catering and complementary fruit platter kindly provided by yourselves at our Away Day today, as all the attendees really enjoyed the lunch, and we will definitely be using your great service again in the near future ? Kind regards, Amir, 10th December 2019

Thanks for today the Food was amazing. Everyone was very happy.  Regards Robert, 10th December 2019

Hi Alison, Thank you for your catering service it was superb. Jax, 29th November 2019

Thank you Alison. Everything was perfect. Johannah, 30th November 2019

Hi Sharron! Only to say thank you. Everything  was very good. The girls who were working ,did a very good job and they were very kind. Kind Regards, Maria, 24th November 2019

Dear Sharron and Alison, Many thanks for providing a lovely spread for my father's wake on 25th November, 2019. The staff were very helpful and quietly efficient. I would be happy for you to use my comments in any recommendation of your services. Kind regards, Jenny, 28th November 2019

Hi Alison, Would like to say thank you for yesterday's catering at Theydon Bois Village Hall, everyone enjoyed the lovely pastries and biscuits! Thank you. Kind regards, Lysandra, 14th November 2019

Dear Alison, I just wanted to thank you and your staff most sincerely for your professional and  helpful service on Friday, not to mention the wonderful food , which was appreciated by all. Many thanks. Kind regards, Debbie, 4th November 2019

Hi Alison, Thank you so much for organising the buffet at such short notice, it was very well received. Thank you once again. Patrick, 1st Nov 2019

Hello Sharron, Just a note to say a big thank you for your very excellent catering for our 100th birthday celebration, hosted by the Old Girls Committee, especially in view of the larger than forecast numbers. Please pass on our sincere gratitude to your staff for the great service that we received. Kind regards, Sheila 10th October 2019

Sharron, Many thanks for another excellent buffet from you and your team. Regards Arthur, 11th October 2019

Dear Alison, Thank you so much for your organisations work at the drinks reception, it was a great success. Best wishes, Charlie, 1st October 2019

Dear Alison, Many thanks for a wonderful effort yesterday.  Many compliments about the food - the cakes at tea were simply scrumptious.  You did what you're obviously good at. With repeated thanks, Rosemary, 30th September 2019

Sharron, I cannot believe how hard you and your team worked today at Copped Hall,  but I think it really was a great success and certainly enjoyed by everyone I spoke to. Pat, 26th September 2019

Thank you so much for the food yesterday for dads wake is was fantastic and will keep your company in mind, Mark, 20th September 2019

Hi both, I just want to say a massive thank you for Saturday! Everything ran so smoothly, it was such a wonderful day. There were so many comments on the food and service, the day went better than I imagined :) Many thanks, Madison, 23rd September 2019

Hello Sharron and Alison, just wanted to take a moment to say thank you for your work and support for the catering provided to our party over the weekend Saturday in Harlow. The food was great and the delivery was on time and everything went well. I will definitely be happy to consider you again for future events. Thanks again and kind regards, Vinie, 23rd September 2019

Allison and Sharron, Just a quick note to say thank you so much for Saturday night.  The food was fantastic, everyone commented on it and your help setting up and doing 'stuff' was brilliant. So thank you and the boys and girls who came on Saturday, Thank you again, Sandra, 23rd September 2019

Hi Alison, I just wanted to say a huge thank you for all your help on the above scheme - by the time we arrived everything was already set up! The team also went above and beyond to help the residents and we've had glowing reviews – in particular the fish pie was a huge hit. A big thank you once again. Kind regards, Lara, 10th September 2019

Dear Sharron and Alison, Thank you so much for everything you did on Saturday for Rico's birthday at Grange Farm. The food was delicious, all our guests commented on how much they liked the bbq and the kids meals were done really nicely. You helped to ensure the whole event ran smoothly even down to the tidy up at the end which allowed us to relax and enjoy the party. Thank you again for all your support. Rina, 2nd September 2019

Morning Alison, Just wanted to say how happy we were with you and your girls yesterday. They were all fantastic, so polite and thoughtful.  They left everything so tidy.  I had lots of compliments for the food, especially the veggie chilli!!!! Thank you very much, will definitely be recommending Sharrons. Jo, 4th August 2019

Sharron, What wonderful catering for our party.. You have given new meaning to the two words High Tea. We used to consider the Ritz and the Connaught as bywords for the luxury of an English High tea (we quote "notable and outstanding example or embodiment of something") but Sharron's catering surpasses the best. Many many thanks for your team and their so successful outcome. Regards Gudi and Alex, 27th July 2019

Hi Alison, Thank you so much for the service you and the team provided, it was wonderful. Many thanks again. Kind regards, Di 23rd July 2019

Dear Sharron and Alison, Just wanted to say a big thank you to you and your staff for all the hard work on Saturday.  Everyone has commented on how lovely the food was. Thank you, Sharon, 17th July 2019

Hi Alison, Thank you for your wonderful food, nothing was left over, just perfect. Best regards, Angela 5th July 2019

Thank you Alison, We were very pleased with the catering at the funeral, and a special mention for the staff who came to serve. They were very pleasant,  helpful and efficient. Could you please pass on my thanks. Geraldine, 30th June 2019

Dear Sharron, Hope you are well. I just want to say a big thank you for providing such a lovely party for Sophie! She thoroughly enjoyed herself and all the parents loved the food. We couldn't have done it without you and a lot of parents asked us for your contact details! You certainly made it a lot less stressful for us! Thank you. Kind regards, Ava, 17th June 2019

Hi Alison, Wanted to let you know that the Ladies were very pleased with the lunch you provided for them last Thursday. I must say, it looked delicious! Regards, Denise, 5th June 2019

Hi Alison, Just wanted to say a big thank you to you and the team for your services this last week. As always the food was wonderful and the kids were certainly well fed. I will be in contact with you later in the year. Many thanks, Annemarie, 14th June 2019

Dear Alison, A note of thanks to you all from Jenny and myself for making the celebration for Dad's life so memorable. We had lots of praise for the refreshments and service and many took your leaflets for possible future events. With all good wishes. Sally, 29th May 2019

Dear Alison, Many thanks for providing such a nice lunch and professional service during the day which I know the Governors appreciated.  I'm pleased you have been paid so promptly! Kind regards, Michael, 19th May 2019

Dear Sharron, Everyone present on Saturday thoroughly enjoyed the refreshments you presented and, am pleased to say, the guests left a few goodies and the family has been finishing up!! Thank you very much, will certainly recommend your good services. Very best wishes, Pat, 20th May 2019

Hi Alison, A big thank you to yourself, Sharron and the team for your wonderful service on Saturday. Everyone had a great time and loved the food. Thanks again, Jon, 8th May 2019

Alison, We're both really grateful to yourself and the catering team for the impeccable clean up and would be delighted to host you again in future, should the event arise. Very best wishes, Kat, 30th April 2019

Hi Alison, May I take this opportunity to thank you so much for a wonderful job on food. The catering and room were fabulous.  Your company was the star of the show....Thanks again, Rachel 24th April 2019

I'd just like to say thank you for providing our lunch Wednesday last. The food was timely, plentiful and excellent. Many Thanks. Kind Regards, Murray, 22nd March 2019

Hi Sharron, Just wanted to say thank you so much for the wonderful Buffet. Everyone enjoyed the food and I shouldn't have ordered any extra as there was a lot left over. I wouldn't hesitate in using you again. Thanks again, Janet, 24th March 2019

Hi Alison, Just wanted to say thanks for all your help and please pass on thanks to Sharon and the other ladies. The food was beautiful both adults and kids were perfect. Thanks for setting everything up i didn't have to do anything. Also the sweet cart was such a hit that some of the children even refused birthday cake they just wanted sweets! Lia x 4th March 2019

Dear Alison, Just to say a big thank you for last Sunday. You and the team were so helpful and the food was amazing. So many people commented how lovely the food was! Fantastic service! Thanks you from all of us. Kind regards, Melinda 5th March 2019

Dear Alison, Thank you for providing refreshments for our team yesterday.  They were well received and enjoyed by all. Kind regards, Marsha, 25th January 2019

Alison, We were very happy with all the catering arrangements, and the staff were friendly and helpful. I would certainly recommend your services. Thanks again, Geoff, 30th January 2019

Hello Allison, Many thanks, to you all, for catering for our event on Saturday. It was a big success and my sister and husband were delighted. The food was lovely and you were so well organised and efficient. Kind regards, David, 5th February 2019

Hi Sharon and Alison, Just wanted to say thank you so much for yesterday – everyone were really complimentary about the food. It was really lovely and the soup was very welcome on a cold day. Thank you again. Kind regards, Pat 18th January 2019

Hi Sharron, Just a quick email to say thank you for the lunch it looks wonderful, sadly I won't be sampling it unless the meeting members don't eat it all. Regards, Alison, 9th January 2019

Hi Alison, Would like to thank your wonderful staff who worked so hard at Mia's Party yesterday. Will be recommending you. Regards Jo, 14th Jan 2019

Hi Alison, Just wanted to say a HUGE thank you for Saturday night ..... the way you and Ben just quietly got on with everything was fantastic and meant that I could relax and really enjoy the evening. I've had great feedback about the buffet ..... everyone really enjoyed it, and I was pleased to see just a small amount of curry left at the end. Sorry it was a bit chaotic setting everything up ...... I had a clear plan in my head, that went to pot as soon as we got there ..... so thank you also for helping us get organised. Will definitely be recommending you to anyone who needs catering, Thanks, Alison xx, 7th Jan 2019

Good evening, I just wanted to say such a fantastic thank you for all the hard work and fabulous food your team has put in today. It made our party brilliant! I can't thank you enough and I can't wait to plan another one with you! Have a great Xmas, Victoria, Johan, Adrian and Elara, 22nd December 2018

Hi Alison, Thank you so much for the wonderful food on Thursday night. There were lots of positive comments from everyone. I will definitely be in touch in the future. Have a lovely Christmas. Many thanks, Cat, 22nd December 2018

Alison, I wanted to thank you for the catering at Jeffrey's 90th party yesterday. The food was great and your team was really efficient and so tidy. Many thanks, Peter 17th December 2018

Hi Alison, I would just like to say a huge thank you to you for the food delivered today for my uncle's funeral. It was lovely and saved me a lot of time to say the least. I'm really grateful and will definitely bear you in mind for the future and will pass on your details to anyone who needs catering for different occasions. Kind regards and thanks again. Jan, 5th December 2018

Hi Alison and Amanda, Thank you for your amazing support yesterday.  I really appreciated how flexible you were about everything to do with the afternoon and the way you helped me make the event so lovely.  I felt I didn't say thank you yesterday due to the key situation! The keys have been found - this morning in a bunch of flowers!!  Anyway it was great to have your support. Steph,  29th October 2018

Thank you, Again, all very good reviews on the food – so thank you very much again. Thanks, Diane, 1st November 2018

Hi Alison. I want to pass on to you our thanks for excellent food and service for our event on Saturday. Your team made it all feel effortless and very many thanks for sorting out the odd dietary need which cropped up unbeknown to me. Something else which was lovely of you was the left over food which went down very well,  especially with our Chair who had arrived back from Namibia on Saturday and had no time to get any food organised for Sunday. Also, seconds, that is a first for me and another excellent extra. We felt the whole event was perfect and the feedback on the food excellent. If you ever need a ringing endorsement of your service please do think of me. Meanwhile, please pass on our thanks to your team. Many thanks again. All best wishes Christine, 26th November 2018

Thank you once again for the lovely food at our staff meeting last night.  Sorry Alison I didn't get a chance to say goodbye when you left. We have three staff meetings and the people that attend all three agree that the food here is the best – so thank you once again. Regards Diane, 17th October 2018

HUGE THANK YOU for yesterday. Certainly from my view point setting up, making the arrangements, etc, I just wanted to say thank you so much for your support.  There was nothing that was too much trouble, at least not that you let me be aware of, and always you and your staff are so lovely to deal with, making my job so much easier, thank you. Very grateful, as always. Jules, 18th October 2018

Dear Alison, Just a note to thank you for catering dad's funeral on the 24th August. The selection and presentation was absolutely first class and many people commented on how great the food was. At a time in our lives that we needed minimum stress, you and your company stepped up to the plate and helped out with such wonderful professionalism and made our lives very easy (on such short notice), we are very grateful for that. You, personally, made this part of the funeral so very easy to sort out and I thank you for that, I would not hesitate to recommend your company to anyone that is looking for a professional and first class caterer. Thank you so much for your help during this time. Warmest regards Tom, 28th August 2018

Hi Alison, Thanks so much for the amazing job you did on Sunday, despite the awful weather the party was fabulous and everyone said the food was great. You were brilliant and made it so effortless, we couldn't have asked for more, thank you! Kind regards, Alex, 28th August 2018

Hi Alison, I just wanted to say thank you very much to you and your staff who attended my Father-in-law's wake yesterday afternoon.  I received lots of comments on the lovely food and the helpfulness of the staff and I know that the Clubhouse have also taken your details as they would be very keen on using you again. Kind regards Vicky, 4th September 2018

Dear Alison, Just a brief email to thank you for all your efforts to make our Golden Wedding celebration such a success last Saturday. We were very pleased with the catering and Fraser and John did a splendid job at the bar. We enjoyed the event enormously. Thank you once again for your efforts. Kind regards Barry, 8th August 2018

Hi Sharron, it's Casey and Mike just wanted to say a massive thank you for everything you done on Saturday, you done an amazing job and helped us out so much. We are so happy we chose to have you. Can you also pass out thanks to Nicky. When you wasn't there she also done a great job and made us feel very relaxed! If anyone ever asks we will 100% recommend your services! Thank you so much, Casey 1st August 2018

Dear Alison, I just wanted to thank you for catering for the Memorial Service for my husband Peter.  It all went very well and a number of people spoke to me, saying how good the service and cakes were. Well done again! Many thanks Judy, 29th July 2018

Dear Sharron, Just a quick note to thank you, Alison and your team for the fantastic service and delicious food yesterday. We shall be singing your praises to all our local friends and passing on your details! Kind regards Catherine, 30th July 2018

Allison. Thanks for a great service for our party. Really pleased. Can I just say Ben and Charley were fantastic. They never stopped all night and are a credit to your company and their parents. I did thank them but please relay this message as we are very grateful. Regards Mark, 23rd July 2018

Dear Alison, Thank you so much, as always, for making the day go smoothly.  I have had lots of compliments about the food.  The doughnut wall went down a storm and the pick and mix stand was probably the most popular part of the garden all afternoon! Will you please pass on my huge thanks to the three angels you sent to help out with the serving of the drinks and the food who took over all kitchen duties including washing up, mopping up spillages, making sure we had enough ice and generally keeping me calm.  They were fantastic and must have been shattered at the end of the afternoon after having walked up and down our garden steps in the heat. Kind regards, Debra 11th July 2018

Sharron, The day was a great success.  The BBQ was fabulous, lots of positive comments from club members. Once again, thanks for such tasty high quality grub!! Regards John, 9th July 2018

Dear Alison, Just to say everything went very well on friday and hopefully I can use your company again in happier circumstances in the future. Thanks, Matthew, 9th July 2018

Hi Alison, Hope you are well. Just wanted to say thank you so much for a lovely baby shower everyone had a lovely time . Many thanks, Anna 4th July 2018

Hello Sharron, Thank you so much for the food yesterday, it went down really well and had lots of nice compliments. Best wishes Lucy, 29th June 2018

Dear Alison, Thank you very very very much for your cooperation today! I think we never end the reception successfully with out you and your two colleagues kind and warm hospitality. Thank you again for all your cooperation! Best Wishes Kazuki, 22nd June 2018

I just wanted to say a big thank you to you all for providing such an excellent service at Mason's Sonic the Hedgehog themed 5th Birthday Party last year at The View. The kids loved the food and so did the parents. Thank you so much to you both for also helping me set up, I was running late and was so stressed! Thank you so so much, I have referred you to my friends and will be using your catering services in the future. Thank you so much and Kind Regards Abigail 29th May 2018

Hi Alison,  Thank you for putting on the buffet for us, it was very nice with a good variety. Kindest Regards, Michael 16th May 2018

Hi Alison, wanted to say a big thank you to you and Sharon for the catering on Saturday for Johns party! The food was excellent, very good comments and feedback from the guests !I will def recommend you and use you for any forth coming events!! A personal thank you to Sharon for being there on the night and lovely to finally meet each other! xx Kind regards, Sally 21st May 2018

Dear Sharron, The last of our guests have now gone home and I have a chance to write to you following our party on Saturday night.   You, your staff and your events' expertise turned what might have been a very good party into a tremendous occasion for John, myself and our guests.  Everyone enjoyed themselves.  Everyone commented on the food, how easy it made it to eat with the bowl meals, canapé starters and deserts, how delicious it all was and how well the drinks were served.  Also how professional your team were.  You gave me a splendid evening where I could just enjoy myself and not worry about what my guests needed.  It was all taken care of by you and your team.  From the moment you arrived, on the dot of 5pm, I didn't have to worry about anything.  Previously when I have had a caterer they have spent the evening  asking me questions to the point of me not enjoying myself but you just got on with it.  I can't thank you enough.  I also thank the good Lord for giving us a warm and sunny day, which is a great gift for a party.  I shall be very happy to recommend you to anyone looking for an events-manager-caterer.  We will have many happy memories of a wonderful evening. With very best wishes Sue 7th May 2018

Dear Alison, I would just like to thank you for another fantastic three course meal on Friday. Many of our guests have been in touch to say how great the food was so thank you for everything. My colleague, Geraldine, will be organising the 2019 Reception and I will definitely be passing on my praise. Kind regards, Rebecca 23rd April 2018

Hi Alison, Thank you very much for the excellent service you provided yesterday. I had so many comments on the food.  How fresh the sandwiches  were and very well presented and plentiful. Also the tea coffee service was great. I got through a few bottles of wine!! We did my husband proud and I'm glad that your services were a part of our day. I would not hesitate to  recommend  you. Once again, thank you. Kindest  regards, Louvain 12th April 2018

Alison, I wanted to write on behalf of my mother and the rest of the family to thank you and your colleagues for the catering you provided yesterday. You and your colleagues were helpful and friendly  throughout,  the food was very good and on the day your staff were efficient and unobtrusive.  Our thanks in helping make what was obviously a difficult day for us go so smoothly. Kind regards, Andrew, 22nd March 2018

Hi Alison, It went very well.  Thank you very much. I am sure people all appreciated all your efforts. Janet 9th March 2018

Dear Sharon, We wanted to say a very big thank you to everyone who made Todd's birthday party a huge success. The food was lovely and the cake has clearly set the bar now ! It was amazing. A special thank you to Alison and her colleague and we shall be in touch again. Kindest regards, Cyrus and Trudy, 11th March 2018

We'd like to thank you for a lovely buffet yesterday. Many people commented on how nice it was and the two members of staff were particularly good. Very pleasant and efficient but discreet as well. All these things helped make a difficult day a bit easier for us and our mum. Many thanks Lesley 20th February 2018

Hi Sharron, Just a quick email to say thank you for feeding the staff the other day and all your hard work (including your staff) over the course of 2017. Another great performance. Merry Xmas and Happy New Year. Jeremy, General Manager 17th January 2018

Hi Ladies, Many thanks for your excellent service, organising the catering for the wake of our Dad Mick yesterday. Your staff, especially Sonia, were brilliant and everybody enthused over the quality of the spread. Apologies that I was not able to thank Sharron personally, the proceedings of the day and the general social side of mingling with the guests, meant that this was not possible unfortunately. Thank you for making everything so easy and straightforward for the whole event, taking a large weight off our mind for what would have otherwise been a stressful situation in a difficult time for us. Best regards Darren, 9th January 2018.

Morning Sharron, Just wanted to say a huge thank you to you and the team again for the Christmas dinner yesterday. Everyone loved it and all of the staff appreciate your efforts throughout the year as well. Have a great Christmas and see you in the New Year! Thanks Tom, Events and Corporate Assistant. 21st December 2017

Great party thank you, and everyone loved the food especially the pies!! Thank you for being so easy and efficient. Will definitely be in touch again. Best wishes and merry Christmas, Regards Charlie 11th December 2017

Hi Alison, A massive thanks to yourself, Sharron and Rachel for everything today! The food was lovely and breakfast and lunch went without a hitch. Best, Louis 13th December 2017

Hi Alison, The lunch looked very good. Many Thanks, Lucy, HR Administrator, 13th December 2017

Dear Sharon, sorry for the delay but I just wanted to thank you for the wonderful spread you supplied for my party, there was loads, it was beautiful and got many great comments.  I hardly had any leftovers.  Thanks again. Cathy 6th December 2017

Hi Alison, Just want to say a big thank you to you and all the staff for providing another great party for Celina, everyone had a lovely time! Many thanks. Have a nice Christmas, Anna x, 30th November

Hi Alison, I just wanted to thank you & your staff for the amazing party food you provided for my mums 80th Party!  It went down extremely well with everyone. Kind regards Karen 29th November 2017

Thanks Sharron for this the food and service provided was excellent.  I will definitely use you again and pass your name on. Thanks again. Melanie 13th November 2017

Dear Alison - Everything went so smoothly on Saturday and we were thrilled with the results.  I just wanted to thank you for all your help during the process - you were great! Joanna, 30th October 2017

Hi Alison, Many thanks to you and the girls for your work on Saturday.All  our guests enjoyed your lovely food and appreciated your great service. Thanks again Best, John 16th October 2017

Alison, Sharron - Brilliant! Many thanks for helping us with our party on Saturday. Really great.  Your team were excellent, as was the food. Many positive comments from people. We got the portions just right too! Many thanks again.  Much appreciated. Will 26th September 2017

Dear Sharron and Alison, A big "thank you" for the buffet delivered to Gilwell Park on Friday evening – excellent and much enjoyed by all. It proved to be the ideal solution to the post-rehearsal get together in an informal setting. Pleased to say that the wedding went really well and, as you will see from the attached, the bride looked stunning! Many thanks again, Mike 25th September 2017

Dear Alison, Thank you ever so much for the excellent catering of you and your team yesterday.  It all went very well, as you know, and our guests were really delighted.  It was also very nice for me to have complete confidence in you and to know they were all being well looked after, which is indeed how it went. Thanks again, Chris, 20th September 2017

Hi all, Just a quick email to say thank you for the amazing food and service last week. So many compliments on the food! Every detail was perfect, I would highly recommend and hope that we can work together for future events. Thank you again from myself and the family. With best wishes, Angela, 20th September 2017

Dear Allison, Thank you for an amazing service. It was perfect. Food delicious. Your niece was brilliant so helpful and a real credit. Couldnt ask for better. Deyan, 7th august 2017

Hi Alison & Sharron, Just wanted to drop you a quick email to say thank you for the amazing food on Sunday. It was just perfect! Thanks once again, will definitely be using you in the future and recommending you! Best regards, Katherine, Vice President, 9th August 2017

Dear Sharon, We must also thank Sharon and her company for providing such a magnificent finger buffet which all of our party enjoyed. Best regards Mike, Vice President. 23rd August 2017

Hi Sharron, Thank you so much for all of your work yesterday the girls had a fantastic time and all staff who attended commented on how wonderful your services were. Many thanks, Kayla 14th July 2017

Dear Alison, Thank you so much for the Catering you did for our U3A members today, it was most enjoyable. With kind regards,  Jenny 10th July 2017

Hi Alison, I just wanted to say thank you to you and the team for all your help with Mum's 80th birthday afternoon tea on Sunday. The food was delicious and the service was great. Lily, in particular, seemed to have everything covered, which we really appreciated. More importantly, Mum and all the guests loved it. I don't think Mum's actually stopped smiling since! So thanks again to you and the team for helping to make it such a special day. Sharon, 30th June 2017

Dear Alison, We just wanted to say a huge thank you for coming on Saturday to our house for Terry's 60th birthday party and for providing such an excellent catering service. All our guests commented on your excellent food and service and we very much appreciate the time and effort you put into making it so special, it was all the small things that counted and were noticed too. Please pass on our thanks too to Hannah and Deanna (apologies if I have spelt her name wrong), they are great ambassadors for your company too and were a delight to have here. Thank you again for everything and we will definitely consider Sharrons Event Catering Company for a future event and will pass on the recommendation too. Best wishes, Sharon & Terry, 5th July 2017

Hi Sharron, Thank you for a lovely spread, everyone was commenting on it. Kind regards, Denise, 15th May 2017

Hi Alison,  I just wanted to say thank you for the quality of the food for our event. The attendees were very appreciative of your efforts and were grateful for the labelling. Regards,  Daphne, 9th may 2017

I had very good comments about the food and a couple of Managers from other developments have taken your details. Kind regards Trish, Development Manager/Trainer, 26th April 2017

Sharron, Many thanks for the lunch today – spot on. best regards, David, Projects Director, 26th April 2017

Dear Alison, I just wanted to thank you for your excellent service, incredibly tasty and well presented cakes and helpfulness throughout the event. A number of guests commented on how good you all were. That evening I attended the Civic ' do' of Epping Town Council, where you were also the caterers. That was good too. And I am looking forward to the Forest Supper in November. With many thanks again. Judy 24th April 2017

Dear Alison, Thank you so much for everything on Friday, and for the months leading up to it! I have had many people tell me already how lovely it was and how delicious the food was. The lady who had many dietary requirements has also requested that I pass on her thanks to you, she said everything you all had done had meant a lot and she really enjoyed the meal. Thank you again for everything. Kindest regards, Rebecca 24th April 2017

Hello Sharron, Thank you so much for last night – the food was lovely. I took the lasagna home myself and Dave for our tea! Thanks again, Diane. 30th March 2017

Hello Sharron, Just a quick email to say thank you so much for yesterday looking after us so amazingly. Hope you have a great Xmas. Thank you, Jeremy, General Manager, 24th December 2016

Dear Sharron, I just wanted to say a huge thank you for catering at the party last Friday.  Everyone enjoyed it and it was a huge weight off my mind last week knowing that the food was taken care of.  As always your service is fantastic. I hope you manage to have a good rest over the Christmas period and I look forward to seeing you in 2017 as I couldn't do a party now without you! Kind regards, Debra, 23rd December 2016

Dear Alison, I was  upstairs when the catering staff left, so please will you pass on my thanks to Sharon and her team , and thank you for your help too.  We all enjoyed the food and had an excellent afternoon. Many thanks, Yvonne, House Manager, 17th December 2016

Dear Sharron, As usual, the Breakfast for Business was perfect..............everyone was impressed by your catering and I'm still getting comments on how good it was. So, many thanks!!! Norma, 13th November 2016

Dear Alison, Thank you for all you did to make mum and dads party go so well. We had a lovely time and the food was very nice. We are considering repeating the experience in the spring for dads birthday as it went so well. Regards Fiona, 29th October 2016.

Dear Sharron, I am just dropping you a short note to express my thanks for turning a real disaster into a sparkling success at our Health & Safety day at Lea Bridge yesterday. The way you and your team performed under extreme duress was a masterclass in remaining cool under pressure. My absolute thanks go to you and your team on site, plus all of your backroom staff, who fed and watered over 150 people within 3 hours from a standing start. Please be assured that I would willingly provide testimonials or provide a reference should you ever have the need. Once again thank you. best regards, David, Projects Director 27th October 2016

Dear Sharon, Alison & Team, Thank you for the wonderful service you provided us yesterday. Alison was quick to respond to my request for additional numbers and delivered a sterling spread of food for our teams. We had so much left over, we had a 2nd lunch today!! We had many comments complimenting the quality and selection. Thank you again, we will be making future bookings with you for sure. Kind regards, Lisa, Executive Assistant to CEO & GM, 15th September 2016

Hi Sharron, I was really happy with all aspects of your service. You and your staff were so very organised and professional whilst being so friendly to all my guests. The canapes were lovely and I had numerous comments throughout the evening saying how delicious they were. Thank you once again for providing an exceptional service and helping to make my 50th a night to remember! Kind regards, Alison, 2nd September 2016

Hi Alison. I just wanted to thank you so much for everything last week, the food was a hit. We really appreciate everything. The food was always on time, plenty to go around and tasted great. If we are ever in the area again I will make sure to get in touch. Sophie (Production Secretary) 23rd August 2016

Hi Sharron/Alison, Thank you so much for the fabulous spread you prepared for my Mum's 75th Birthday celebration on Saturday. She had a great day and the food was so amazing and delicious.  I will be sharing your details with everyone I know and would not hesitate to recommend your services. Thank you again - Tracy, 30th August 2016

Hi Sharron, Just wanted to say a big thank you to you and your staff who catered so wonderfully for me on Saturday. It all went really well and judging from all the messages I have received, everyone had a fabulous time! Many thanks once again. Kind regards, Alison, 30th August 2016

Dear sharron, Thank you for everything, it was beautiful and the food was really good. Regards, Julie, 30th August 2016

Hi Alison, just to let you know our event was very successful and the food was lovely!!  Thanks so much for all your input and attention to detail.  Even the weather was better than forecast.  My dad had a great party.  Pass my thanks on to all the staff there. See you again. Judith, 22nd August 2016

Hi

I just want to say  a big thank you for all your efforts yesterday. Everything  was perfect and I would not hesitate to recommend you in the future. Regards, Katie, 19th August 2016

Thanks so much for today you were all amazing. Katy, 18th August 2016

Hi Natasha and team…..I just wanted to say thank you for all the arrangements for Sunday morning. It sounded like it went really well so thanks for everything you did to assist us. Thanks for your support – we do appreciate everything you do to make the breakfast such a success. Best,  Joanne, 4th August 2016

Hi, Just to say many thanks for the catering service you provided yesterday. Best wishes, Hilary, 5th August 2016

Hi Sharon. The service from your team on Saturday was excellent. They were punctual, polite and all very efficient and the food was excellent too. I would have no hesitation recommending and using your services again. Please pass on my thanks to all the team once again. Thank you. Mark, 1st August 2016

Sharron, As I mentioned to your colleagues Friday night – great support again from you and your team  for the various events and particularly long hours supporting the crew and vip catering etc over weekend. The business breakfast went down very well and your colleagues working all day and into the evening on various event activity appreciated. Sunday morning 'daft o'clock' exceptionally early start supporting Mark and team also went well. Thanks Brian, 1st August 2016

Hi Sharron, Thank you and your team for making Helena's birthday party an very successful event, we received many favourable comments and we were very happy with what you did. Kind regards, Andy, 1st August 2016

Hi Alison, Just a short note to thank you all for catering our party. Everything went great and we were delighted with your whole service, and had a number of people comment on how much they enjoyed the food. Thanks again and catch up soon. Russ, 1st August 2016

Hi Sharron, Just want to send my thanks for all of the food supplied yesterday – the presentation was impeccable and it was delicious! Everyone was very impressed and we would definitely like to use your company again, please pass my thanks onto your delivery team too – they were great! Thank you, Chloe, 28th July 2016

Dear Sharron, Please pass on our sincere thanks to your team for all their work on Saturday evening at our party. They were so efficient and kept everything going quietly and thoughtfully. We had lots of great comments about the food and it went to make a memorable event for us. The beautiful weather helped too! Thank you, Rosalyn and John, 26th July 2016

Sharron, Thank you so much. The party was great: the food was delicious and everything ran impeccably smoothly! Lindsey, 26th July 2016

Hi Alison, Thanks once again for all your hard work in making Mum's birthday party so very enjoyable. The food was excellent and your staff were all so lovely. We would have absolutely no hesitation in recommending you in the future. Many thanks, Deborah, 14th July 2016

Hi Alison, We had a great time on Wednesday and really appreciated all the hard work Sharron and the team put in to make our event a success. I will definitely be in touch for any events we may need catering in the future. Kind regards, Lucy, 8th July 2016

Dear Sharrons Events, Thank you so much for catering for the memorial wake for Jean. Everything was perfect, we could all imagine Jean appreciating it. We will recommend your company to our friends, Best wishes, Clare, July 5th 2016

Dear Alison, The food was excellent yesterday. Thank you , Best wishes, Lorraine, 5th July 2016

Hi Alison, I hope you are well. Many thanks to you and your team today for the outstanding catering.  We had many members commenting on the quality of the food.  Thank you.  We look forward to next year!  Kind regards, Melanie. 19th June 2016

Hi Sharon,  Many thanks for the excellent lunch and for the professional  service by Sue and her team.  Our members showed there appreciation by the clean plates that were sent back to the kitchen. Many thanks once again. Jeff 23rd June 2016

Hi Sharron, This is just a quick email to say a massive THANK YOU for catering the first ever SHS Ball at our university.  Our guests enjoyed the food and the staff were very well organised which aided in the smooth running of the event. All the best in all your future endeavors  and hope we can work with Sharon's Catering in the future. Kindest regards, Dimitri 8th June 2016

Dear Sharon and Alison, Thank you for all the delicious food for my Mum's funeral last Monday. It looked lovely and tasted wonderful. Your team on sight were charming and looked after everyone. Thank you for all your attention - you made us relax with all the many arrangements. Best Nigel, 27th April 2016

Hi, Thank you for the amazing buffet last night! It was so good that the organisers of the event, Jack Petchey "Speak Out" Challenge, took photo's for their website to show other people how it should be done!!  Many thanks to you and your team. Vicki, 11th May 2016

Dear Alison, Many thanks for catering for Saturday. It worked out well and we were all impressed by the food and you and Ben's service. Thanks again, Helen, 4th April 2016

Dear Alison, Thank you so much for yesterday's catering. We were very impressed with the subtle and professional service and the quality of the food and refreshments. The afternoon went well and a number of our guests also commented on how well your staff managed the event and assisted with any enquiries. Kind regards Gaye, 22nd March 2016

Hi Sharon, Many thanks for lunch yesterday which went down very well with all! Kind regards Alex, 15th March 2016

Hi Alison,  just wanted to say thank you for catering for our golden wedding. The food was lovely, beautifully presented and just what we wanted. Everyone commented on how good it was and helped to make our day really special. I would not fail to recommend you. Thank you very much. Christine and Stephen, 7th March 2016

Hi Alison, I just wanted to send a note to say thank you for the catering you provided for our Christening on Sunday.  Everything was perfect - just as described when booking. It took all the stress out of the occasion and it was fantastic to have such friendly, helpful and efficient staff. Many thanks, Katie, 2nd March 2016.

Sharron,  Thanks very much for your help setting up this morning and in getting everything organised with the View. Everyone loved the food, especially the fairy cakes, and the party went really well. Eileen x, 7th February 2016.

Dear Alison, Thank you for a wonderful evening and food and service from your team. Kind regards, Steve 21st December 2015

Hi Sharron, A big thank you to you and your team for last evening. The food was excellent and the service was 1st class. Best regards, Shaun 20th December 2015

Hi Sharron, Thank you for another fantastic buffet last night, it was the perfect start to our Christmas celebrations.  Our staff and athletes commented on the delicious food and we'd like to pass on our thanks to your team for all their help and great customer service. We look forward to working you again. Merry Christmas and a Happy New Year to you and your team! Best regards Janice 17th December 2015

Alison, Thank you and your team. Everything was brilliant yesterday, the food was extremely tasty remarks made by all our guests and excellent size of portions. You made the day so easy we are extremely grateful ,many many thanks, Yours very grateful, David, 11th November 2015

Hi Alison, Thanks so much for organising a fantastic 5th birthday party for Sophia. Every aspect was done to such a great standard. We received lots of compliments on the decorations and food and the children loved the entertainment, particularly the acrobatic dancing Prince Charming did which was a fantastic surprise. I wouldn't hesitate to recommend your company and use again in the future. Thanks again, Natalie, 8th November 2015

Hi Sharon & Alison, Just wanted to say thank you for the lovely buffet you provided us with at Buckhurst Hill Library on Friday at our Winter Warmer event. Every body commented on how lovely the food was. Best Regards, Karen, 9th November 2015

Hi Sharron, Wanted to say a big thank you for doing a great job. Alison and the girls were fab. Alan, 21st September 2015

Hello Sharron, Thanks for all your help with our event. It was a success (despite the rain!). I had lots of comments on how nice the food was and Alison was lovely - really flexible and friendly. So please pass on my thanks to her and her team on the night! Thank you. I will be in touch for our next event! Thanks, Nicola, 17th September 2015

I would like to thank you for the delicious food you supplied for the funeral of my late husband yesterday. The delivery was on time. Everyone who attended commented on the quality and presentation especially the home cakes etc. I will definitely use you again and recommend you to others Gloria, 8th October 2015

Dear Alison, We would like to say a very big thank you for the excellent buffet you provided for us at The View last Thursday 8th October. The food was delicious and we were so pleased that you catered for all our family's dietary needs. It was all so beautifully presented and easy to take away the left-overs for us to enjoy at tea time! With very best wishes, Lina, 15th October 2015

Hi Alison, I would like to thank you so much for catering for us last Friday, the food was amazing, it went down extremely well, thoroughly enjoyed by all. We will defiantly be re-booking for Christmas. Many thanks. Angela, 28th October 2015

Sharron, Can you please pass on my appreciation to your respective teams for the hard work and fantastic customer service over the last week or so. We have collectively delivered a hugely successful event to a very high standard and it is our continued work in partnership and your companies'reliability which is a huge factor that helps us achieve this. Thanks, Best Wishes Brian, 24th October 2015

Rebecca, The lunch was amazing – everyone commented on how impressed they were. The allergen advice was particularly appriciated. Best wishes, Amy, 14th January 2015

Dear Alison, We just wanted to say thank you very much for catering for Ludo's birthday party last weekend. You and Bethany were brilliant and helped us all to properly enjoy the party! Now we must start organising Skye's party well in advance hoping you can do the same for her in the summer. Many thanks, Stephen and Zoe, 16th January 2015

Dear Rebecca, Thank you! The food was great as was the service. We shall of course use you for future events! Sian, 19th January 2015

Please thank everyone, the food was lovely and beautifully presented. The kids ate for ages and kept popping back to the table later too. Brilliant! Lots of mums very impressed. Thank you! Anna, 26th January 2015

Hi Sharron, Thank you for your services on Friday, the food was lovely and it all looked fantastic! We really appreciate your help! Thanks again :) Kind Regards, Sophie, 9th February 2015

Alison, Thank you for all your hard work. We were very happy with everything you did. Many thanks. Karen, 24th February 2015

Dear Sharron, Alison and everyone, I'm so grateful to you all for your professional skills and your friendship! Your catering for the Thanksgiving Service on the 19th for my husband's life was excellent in every way...from the moment we met, Sharron, I felt totally confiddent that I could put the arrangements safely in your hands and so it turned out! It was so good to know that you would have everything in hand. The food was delicious and so generously provided, everything was beautifully presented and served and you more than took care of us! I am so glad that I found you.........thank you again so much for helping us through a very tough day! Jean 21st February 2015

Hi Sharron, I got a lot of compliments for the food last Saturday! People loved it and there was plenty for all the hungry people. It was marked as the best food ever during a competition and the bar is set high for all other competitions to come. Thanks for your amazing deal and the even better food!! Kind regards, Fieke 3rd March 2015

Dear Sharron and Alison, Just wanted to say how much we enjoyed the evening on Friday. The event was a big success and everyone commented on how much they liked the food. There were lots of empty plates! The squadron will certainly use your catering skills again for next year's 75th anniversary. Once again, thanks for making it a great evening, enjoyed by all. Looking forward to working with you again in the near future. Kind Regards Darren 8th March 2015

Dear Sharron and all the team, Just to say thank you for all your hard work on Saturday. The party was a great success and I was relaxed as I knew the catering was in safe hands. The bar staff coped admirably with the high demands of our guests, and everyone was very discreet throughout the night. I will certainly recommend you to anyone planning a party in the near future. Kind regards, Brenda 9th March 2015

Alison, Just wanted to say a big thank you for the food you supplied for mums funeral yesterday. It was what I had envisioned and more. We had more people come back than expected but there was still plenty of food. I will definitely be keeping your number for any future events, parties and will be recommending your services if anyone was to ask if I knew of a good caterer. Many thanks once again. Gill and family. 30th April 2015

Dear Sharron, Thank yo for a Brilliant service & the Girls were excellent. Thanks Tina, 30th April 2015

Dear Alison, I would like to thank you and your team for the wonderful catering at Dominic's party. The children's picnic boxes were an absolute hit, in fact many children took them home to finish them! The adult food was also a big success and disappeared very quickly. I would definitely ask you to help with any future parties that we have, and would definitely recommend you to friends! Kind regards, Kirstie, 1st May 2015

Dear Alison, Thank you very much for the excellent lunch you provided for our event at The Royal Gunpowder Mills, Waltham Abbey today. Best wishes Daphne, 8TH May 2015

Dear Sharron and Alison, I wanted to say a huge thank you to you and all your staff for coming on the evening of the Mayor Making on 13 May. The food was delicious and you were all so helpful on my first major event, with so many people attending! Please pass on my thanks to everyone involved and I look forward to working with you again. Kind regards, Alison, Mayoral Services Manager, 26TH May 2015

Dear Alison, Thank you so much for such a lovely tea party. Everyone thoroughly enjoyed themselves especially my Auntie. We wouldn't hesitate to use you or recommend you in the future. Best Wishes, Colin and Jenny, 26TH May 2015

Hi Alison, Please accept my sincere apologies for not emailing a lot sooner to THANK YOU ALL. I just wanted to thank you, Sharron & your team for a fabulous evening. My daughter's 18th birthday party was fabulous fun, helped very much by the great organisation of your team with the setting up & preparation of the BBQ, your food was superb, all the party guests remarked how gorgeous & tastey the food was. Without doubt the next party we have at home I will not hesitate to contact you, your professionalism & organisation etc was fantastic, & next time I'll get some of your wonderful help with the bar, I was constantly going around topping up friends & families drinks, which although I enjoyed, meant less time on the bouncy castle for me!!! tee hee Once again please accept my sincere apologies for the lateness in THANKING YOU ALL, Kind regards, Suzanne, 4th June 2015

Hi Alison, This is a quick note to thank you for all the arrangements for Rishabh's birthday party at the Redbridge Drama Centre. It was so professionally done and absolutely fabulous! Thanks a lot for all your hard work. Regards, Maddy, 11th June 2015

Hi Sharon, Just a quick note to pass on my thanks to you and the staff for the catering today. Important clients well impressed! Regards Dan, 13th June 2015

Dear Alison, Just a note to thank you for taking the strain out of organising our 25th anniversary do. Please convey to all your staff our thanks,for such a great evening last Saturday. The guests commented on how friendly the staff were. The hog roast is still being talked about!!, Hope you will get a few days off now so you can put your feet up. We will have you on speed dial for our 50th!, Or any other event in between. Sarah and Colin xx, 23rd June 2015

Dear Sharron, A big thank you to you and your team for all you did on Saturday. We received many comments from our guests about the food, all very favorable and we were very please with the quality, selection and quantity of the food that was served. Despite half a dozen no shows, there was very little food left over, and most of that was demolished by the teenagers when they returned from the cinema in the evening! regards Helena & Andy, 15th June 2015

Hi Sharron, Just a little thank you for yesterday everyone enjoyed the food, Amanda was excellent, That's it for us year however off again next June so will be in touch, once again thank you for both girls celebration which your team help make a success, Best regards, Melanie, 29th June 2015

Hi Alison, Everyone was very happy with the food and the staff on the day. I would like to say a personal thanks for all you did and look forward to enjoying your service and food at some later date Regards Janet, 7th July 2015

Dear Alison, I just wanted to drop you a line and thank you for an absolutely terrific party for Harry. Things could not have run more smoothly on the day it really was an absolute dream party. Harry had a ball and so did all of his friends the feedback has been tremendous. I think Harrys favourite thing is his R2-D2 balloon he has it in his bedroom! Thank you so much for all your hard work and all the team at Sharrons Event Catering. Kind regards. Frances., 7th July 2015

Dear Alison, Thank you so much for doing such a brilliant and professional job yesterday for Skye's party. Everything you do runs so smoothly like clockwork leaving us to fully enjoy Skye's party. We are so pleased, thank you :) Kind regards, Zoe, 8th July 2015

Sharron, Thanks so much for all your hard work. The food was amazing and the Bar Boys were brilliant. Great fun was had by all! Thanks again. Regards, Be x-- 20th July 2015

Hi, I just wanted to say a huge thank you for yesterday. The teams had a brilliant time, the barbeque was really good and all the staff we met were both helpful and friendly. Please pass on our thanks to all those involved. Kind regards, Sara 31st July 2015

Hi Alison, Thank you for your excellent service for my daughters party on Saturday. The room looked amazing when we arrived and the food and cakes were lovely. Thanks Again, Rebecca 11th August 2015

Hi Alison, Sharon and team, Just wanted to say thank you so much for Sunday, as always you did a fantastic job and I have received so many compliments about the food and how lovely you all were. I just wish you could have catered for the Saturday as well. I have given your number to a few people who have asked and without doubt we will see you again for our next party (I will make sure I book you well in advance). Thank you again for a professional and friendly service. Kind regards, Ellen, 11th August 2015<

Hi Sharron and the Team, Thank you for making Rico's Birthday party so memorable. The food was delicious and the barbecue team were great. The girls serving drinks worked relentlessly and the whole team were exceptional in delivering great service throughout the day. They even had energy at the end of the party to help us clear up the venue. 2 years ago we were lucky to have you cater for our son Neo's 1st Birthday party and now we're extremely grateful for the expertise which made Rico's 1st birthday party a success. Kind Regards, Rina & Sanj, 12th August 2015

Dear Alison, Just want to say how pleased we were with everything. You were both so professional and unobtrusive it went very smoothly. The food was delicious, everyone said so and you were quite right - after you went the rest of the food disappeared, nothing left! Once again so pleased and we will recommend you. Many thanks, Jane and Steve, 1st September 2015

Hi Sharron, I just wanted to say thank you for yesterday. The food was lovely and looked great. Everyone commented on how good the food was. Of course with so many other things to think about for a funeral you still hope the food for people is going to be ok and it definitely was, and we didn't run out or have much left over. Also would like to say thanks not just for the food but the way you dealt with me with the phone conversations and emails. I could not have asked for better. Kind regards, Paul, 10th September 2015